The synthesis of TCNQ-based material with derivative of leucine amino acid
Abstract
A new material, Leu(CH3)4-TCNQ, has been successfully synthesized from Tetracyanoquinondimethane (TCNQ) and amino acid ester, N,N,N-Trimethyl-L-Leucine Methyl ester ((Leu(CH3)4+). This material was characterized by modern physicochemical methods such as: X-ray diffraction technique (XRD), Raman, Infrared (FT-IR) and UV-Vis spectroscopy and voltammetric technique. This result will offering a new direction for the synthesis of new materials from TCNQ and other amino acids.
References
Liu, K.; He, L. J.; He, X. M.; Guo, Y.; Shao, S. J.; Jiang, S. X, Calix[4]pyrrole–TCBQ assembly: a signal magnifier of TCBQ for colorimetric determining amino acids and amines, Tetrahedron Letters, 48, 24, 2007, 4275 – 4279.
Singh, V.; Sahai, R (1986), Interaction of some biomolecules with π- and σ acceptors, Monatshefte Fur Chemie, 117, 345 – 350.
Padhiyar, A.; Patel, A. J.; Oza, A. T , Spectroscopy of charge transfer complexes of four amino acids as organic two-dimensional conductors. Journal of Physics-Condensed Matter, 19, 48, 2007, 6214.
D. Jérome, Organic Conductors: From Charge Density Wave TTF−TCNQ to Superconducting (TMTSF)2PF6, Chem. Rev, 104, 11, 2004, 5565 – 559
D. S. Acker, R. J. Harder, W. R. Hertler, W. Mahler, L. R. Melby, R. E. Benson, W. E. Mochel, 7,7,8,8-Tetracyanoquinodimethane and its electrically conducting anion-radical derivatives, J. Am. Chem. Soc, 82, 24, 1960, 6408 – 6409
N. Uyeda, T. Kobayashi, K. Ishizuka, Y. Fujiyoshi , Crystal structure of Ag · TCNQ, Nature, 285, 1980, 95 – 97.
C. Zhao, A. M. Bond, Photoinduced Oxidation of Water to Oxygen in the Ionic Liquid BMIMBF4 as the Counter Reaction in the Fabrication of Exceptionally Long Semiconducting Silver-Tetracyanoquinodimethane Nanowires, J. Am. Chem. Soc. 131, 12, 2009, 4279 – 4287.
A. Nafady, A. M. Bond, A. Bilyk, A. R. Harris, A. I. Bhatt, A. P O'Mullane, R. De Marco, Tuning the Electrocrystallization Parameters of Semiconducting Co[TCNQ]2-based Materials to Yield Either Single Nanowires or Crystalline Thin Films, J. Am. Chem. Soc. 129, 8, 2007, 2369 – 2382.
H. Alves, A. S. Molinari, H. X. Xie, A. F. Morpurgo, Metallic conduction at organic charge-transfer interfaces, Nat. Mater, 7, 2008, 574.
Bond, A. M.; Qu, X.; Nafady, A.; Mechler, A.; Zhang, J.; Harris, A. R.; O'Mullane, A. P.; Martin, L. L, AFM study of morphological changes associated with electrochemical solid–solid transformation of three-dimensional crystals of TCNQ to metal derivatives (metal = Cu, Co, Ni; TCNQ = tetracyanoquinodimethane), J. Solid State Electrochem. 12, 6, 2008, 739 – 746.
A. Hoeskstra, T. Spoelder, A. Vos, The crystal structure of rubidium-7,7,8,8-tetracyanoquinodimethane, Rb-TCNQ, at -160°C, Acta Crystallogr. Sect. B, 28, 1972, 14 – 25.
Xiaohu, Jinzhen Lu, Lisandra Martin, An amino acid Derived Semiconductor, Angewandte Chemie, 50(7), 2011, 1589 – 1592.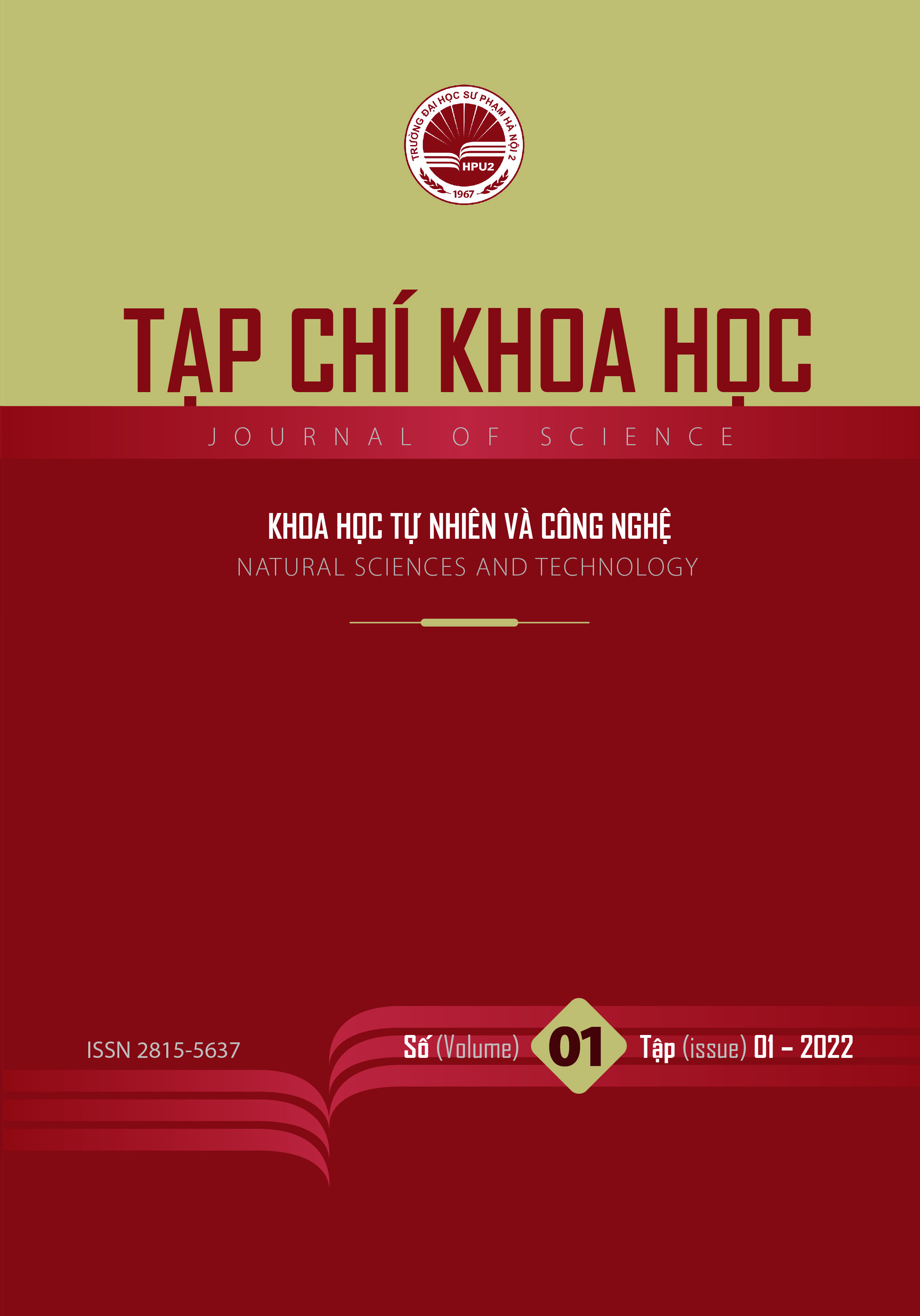 Downloads
How to Cite
Vo, T.-N., Doan Thi, N.-H., & Tran, D.-M. (2022). The synthesis of TCNQ-based material with derivative of leucine amino acid.
HPU2 Journal of Science: Natural Sciences and Technology
,
1
(1), 53–59.
https://doi.org/10.56764/hpu2.jos.2022.1.1.53-59
Section
Natural Sciences and Technology